Osceola Village | Kissimmee, Florida
122,845 square foot shopping center, anchored by Publix Supermarket.
Located on Osceola Parkway, South Orlando's super regional retail trade area with an average of 74k visitors per day and an estimated additional 75 million tourists per year.
Dense infill location with strong future growth – 10.2% projected population growth within 1-mile.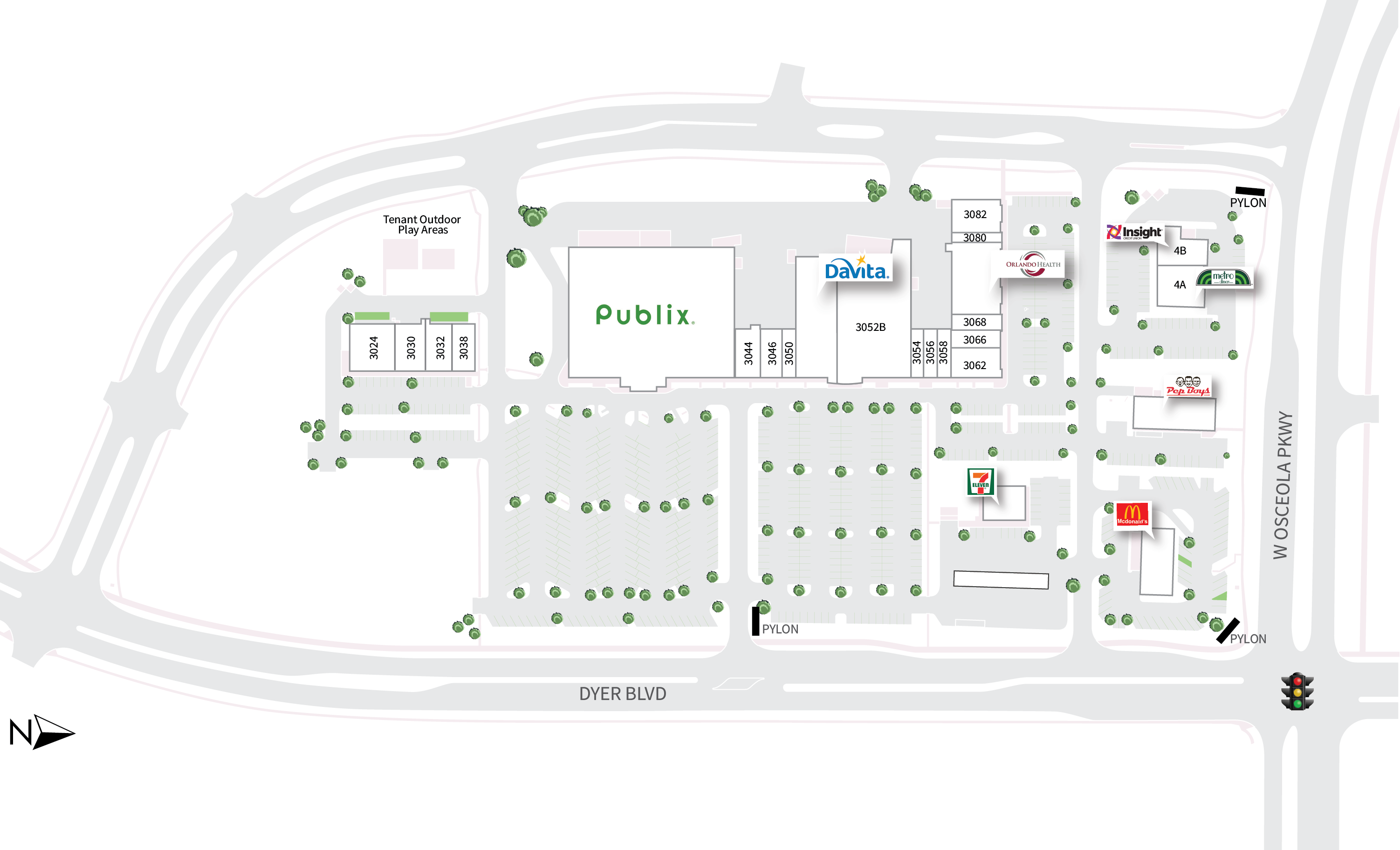 | Suite | Square Footage | Tenant |
| --- | --- | --- |
| 3024 | 4,900 | My First Academy 2 |
| 3030 | 2,800 | CSI Special Care |
| 3032 | 2,800 | La Rosa Realty |
| 3038 | 2,205 | Painting With a Twist |
| 3040 | 4,5600 | Publix Supermarket |
| 3044 | 2,100 | Allstate Insurance |
| 3046 | 2,800 | The Original Mattress Factory  |
| 3050 | 1,400 | The UPS Store |
| 3052A | 8,353 | DaVita |
| 3052B | 21,647 | Available |
| 3054 | 1,400 | Bebe Nails |
| Radius | Population | Avg. HH Income |
| --- | --- | --- |
| 1 mile | 9,018 | 66,040 |
| 3 miles | 87,543 | 67,841 |
| 5 miles | 219,900 | 69,368 |
| Suite | Square Footage | Tenant |
| --- | --- | --- |
| 3056 | 1,400 | Uni K Wax Center |
| 3058 | 1,400 | Available |
| 3062 | 3,290 | Vision Works |
| 3066 | 1,250 | China Gourmet |
| 3068 | 1,400 | Available |
| 3070 | 7,000 | Orlando Health |
| 3080 | 1,400 | Muttlee Crew  |
| 3082 | 3,500 | Achieve Wellness |
| 4A | 3,700 | Metro Diner |
| 4B | 2,500 | Insight Federal Credit Union |
JP Beaulieu, CCIM, CLS | Bishop Beale Duncan

407.590.7876